The Keiki® ukuleles from the exotic wood collection offer a warm sound and a striking look - each model comes with a unique wood grain.
The Acacia family has many botanic members, for example, one of them is the famous and rare Koa, only found on the Hawaiian islands. It is a stunning wood with qualities that are akin to both Mahogany and Blackwood. Beautiful gold and brown stripes, and flame patterns are sometimes visible.
Spalted Maple is a stunning natural product created by the interaction of Maple and living organisms. The black lines are the result of bacteria living on the tree's resins. Each top has unique wood grain.
You'll find yourself looking at White Ebony tops for hours because no two pieces are alike in appearance. Some of the models have a more linear wood grain, while others have gorgeous patterns.
SPECS
Acacia || Spalted Maple || White Ebony top, satin finish
ABS body, slightly arched
Okoume neck, satin finish
ABS fretboard & bridge
Open gear tuning machines chrome w/ black buttons
Ortega Guitars UWNY-4-SO strings
Headstock tuner, Soundhole hook strap/support, 5 medium picks, and drawstring bag included!
The ABS body is extremely durable and can endure temperature and humidity changes. It is also slightly arched, which helps with sound projection.
The small Keiki® oval-shaped headstock perfectly matches the uke's top and features a laser-engraved logo.
Open-gear tuning machines are used on these ukuleles. They make the headstock lighter, allowing the neck to vibrate more freely. This style of tuners also has a retro feel about it, giving it a vintage vibe.
Thanks to the pre-installed strap pin, you can attach your favorite ukulele strap without mounting a pin first.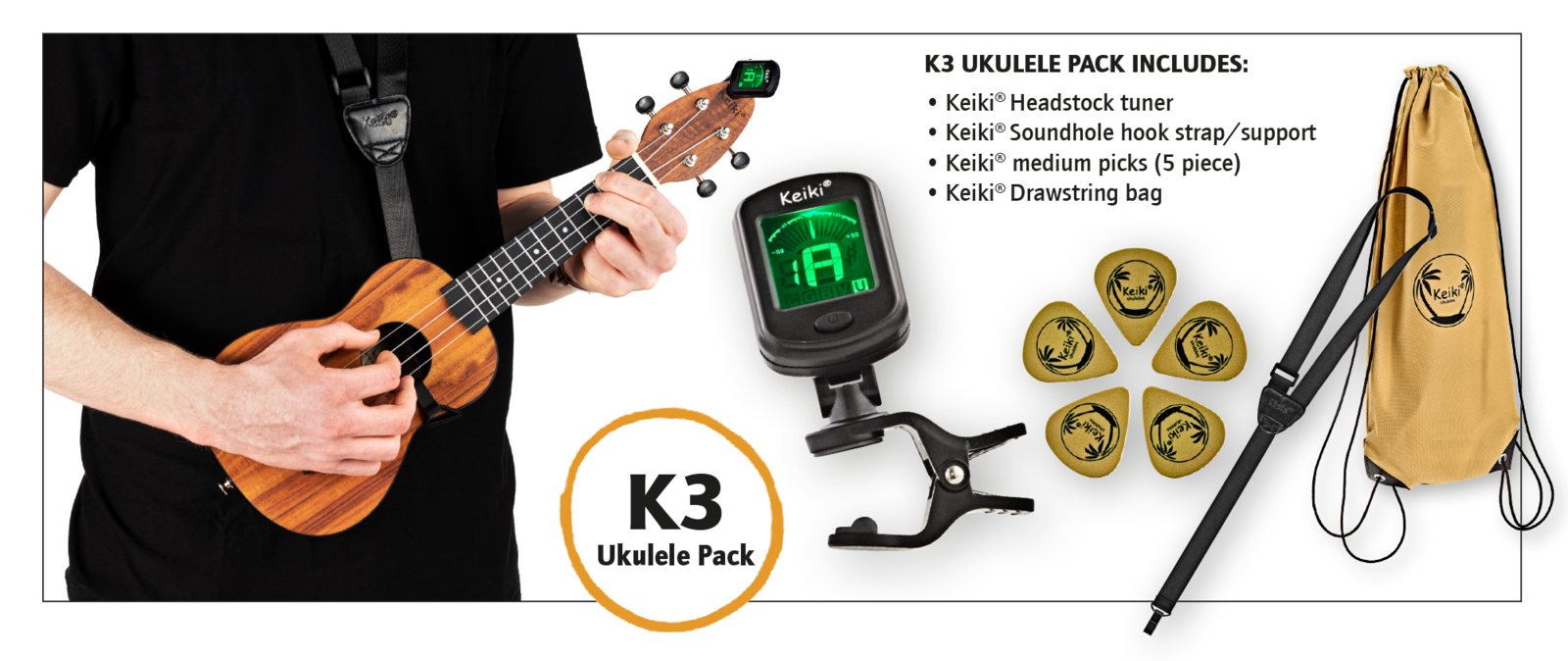 The Keiki® K3 ukulele bundles include a complete accessory kit, allowing you to go directly into your new passion.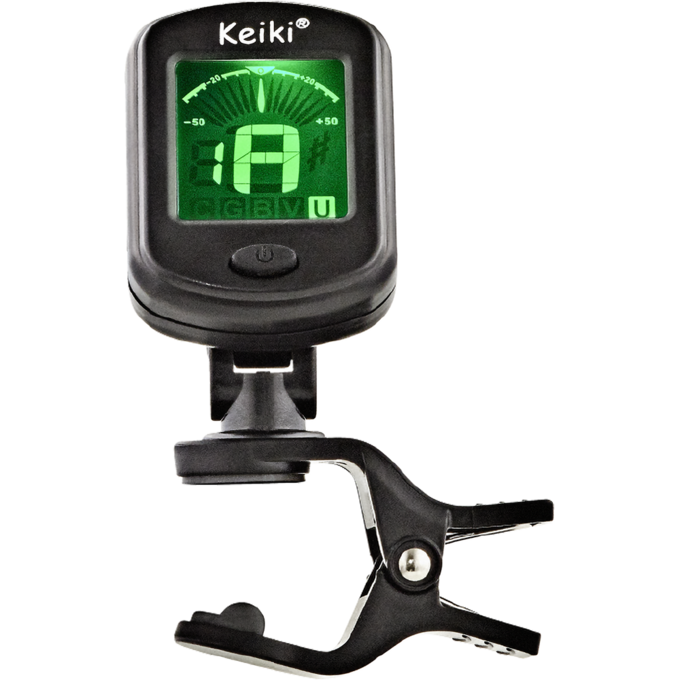 You can effortlessly tune your new ukulele with this clip-on headstock tuner.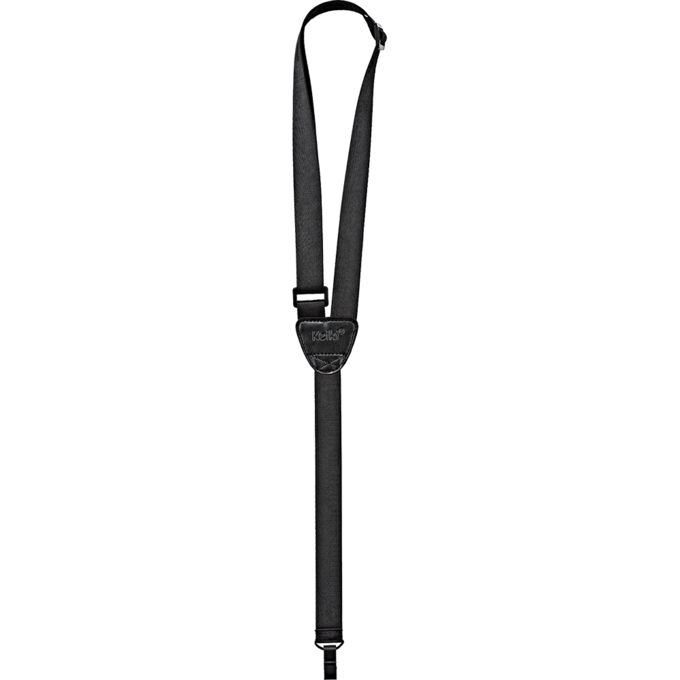 When playing standing up, the strap is attached to the uke's soundhole for added support.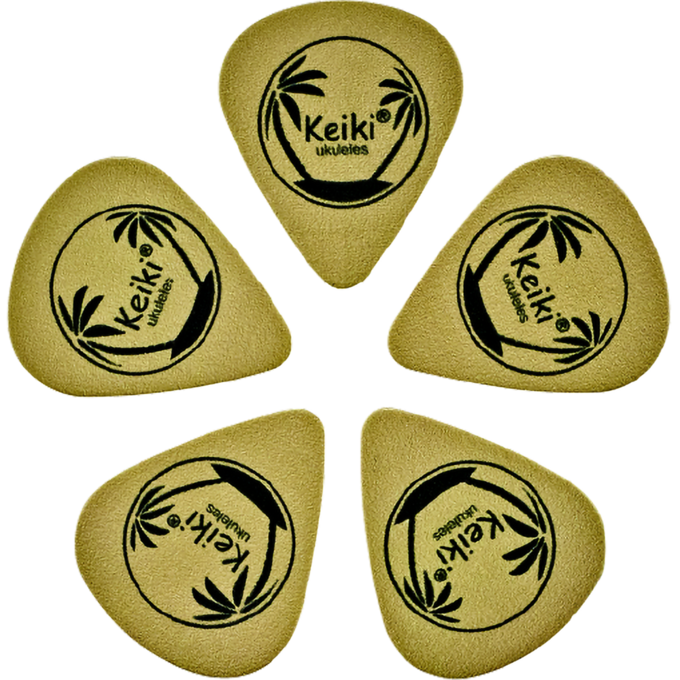 You can start strumming your uke right away with the included picks.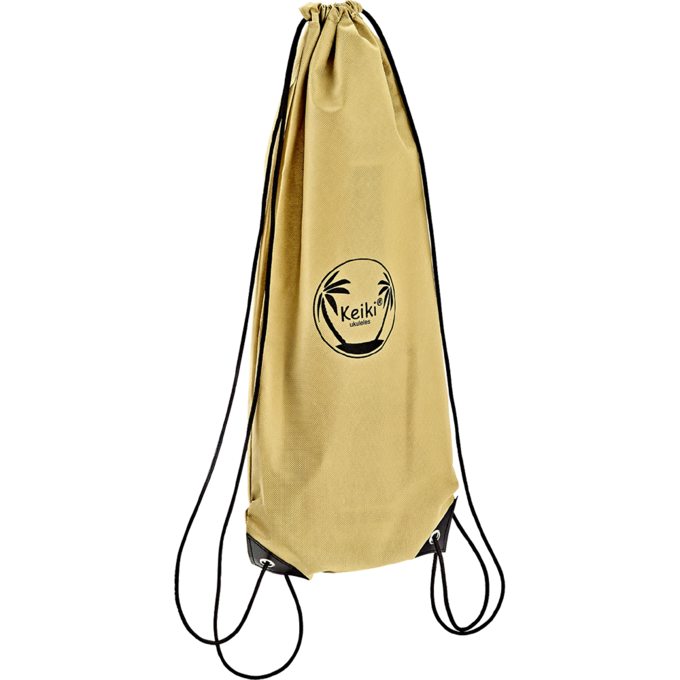 The drawstring bag prevents scratches on your ukulele and can be worn as a backpack.
SOUND DEMOS
Watch the product videos here.