Established in 1994, Ortega Guitars introduced German design to authentic and traditional methods of guitar making. Committed to innovation and quality, we strive to improve what is expected at every level for all our acoustic instruments. Options like the 12hole bridge often found only on high-end guitars, are standard on our entry-level to professional nylon string guitars. Our wide variety of body and neck sizes accommodates all ages allowing everyone to learn and play.
We started as a guitar manufacturer aiming to produce guitars that everybody can play and afford. Looking back these cornerstones mark our way from a small German guitar brand to a global corporation with distribution partners all over the world.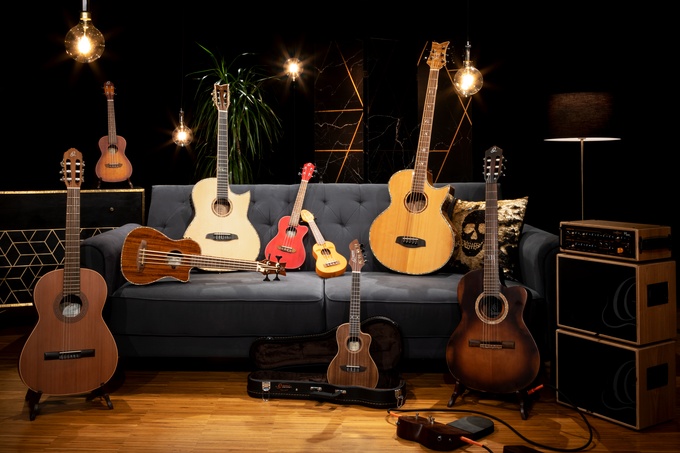 The family grows
But we did not stop there. Over the last 25 years, we have consistently extended our product range. Currently, our customers can choose from a wide variety of different stringed instruments like ukuleles, acoustic basses, mandolins, and banjos. We also introduced smaller sized guitars like our 1/4, 1/2 & 3/4 models to support young talents with small hands.
Team
We love to design instruments as much as we love to play them. In each instrument you will find our passion for music, the spirit to create something new & the will to deliver instruments that are affordable and comfortable to be played by anyone. At Ortega Guitars we are building traditional instruments for the modern-day player since 1994.
Catalog Archive 2010 -2022
We have created this small archive for you. If you want to learn more about the last 10 years of our history, feel free to use this collection of catalogs.
ABOUT MEINL
Meinl company is a family-owned manufacturer and distributor of musical instruments based in Gutenstetten, Germany. The brand portfolio of Meinl comprises Meinl Cymbals, Meinl Percussion, Nino Percussion, Meinl Sonic Energy, Meinl Stick & Brush and Ortega Guitars.