The HYDRA-BSTE tenor uke/ uke bass hybrid offers everything ukulele players have been longing for.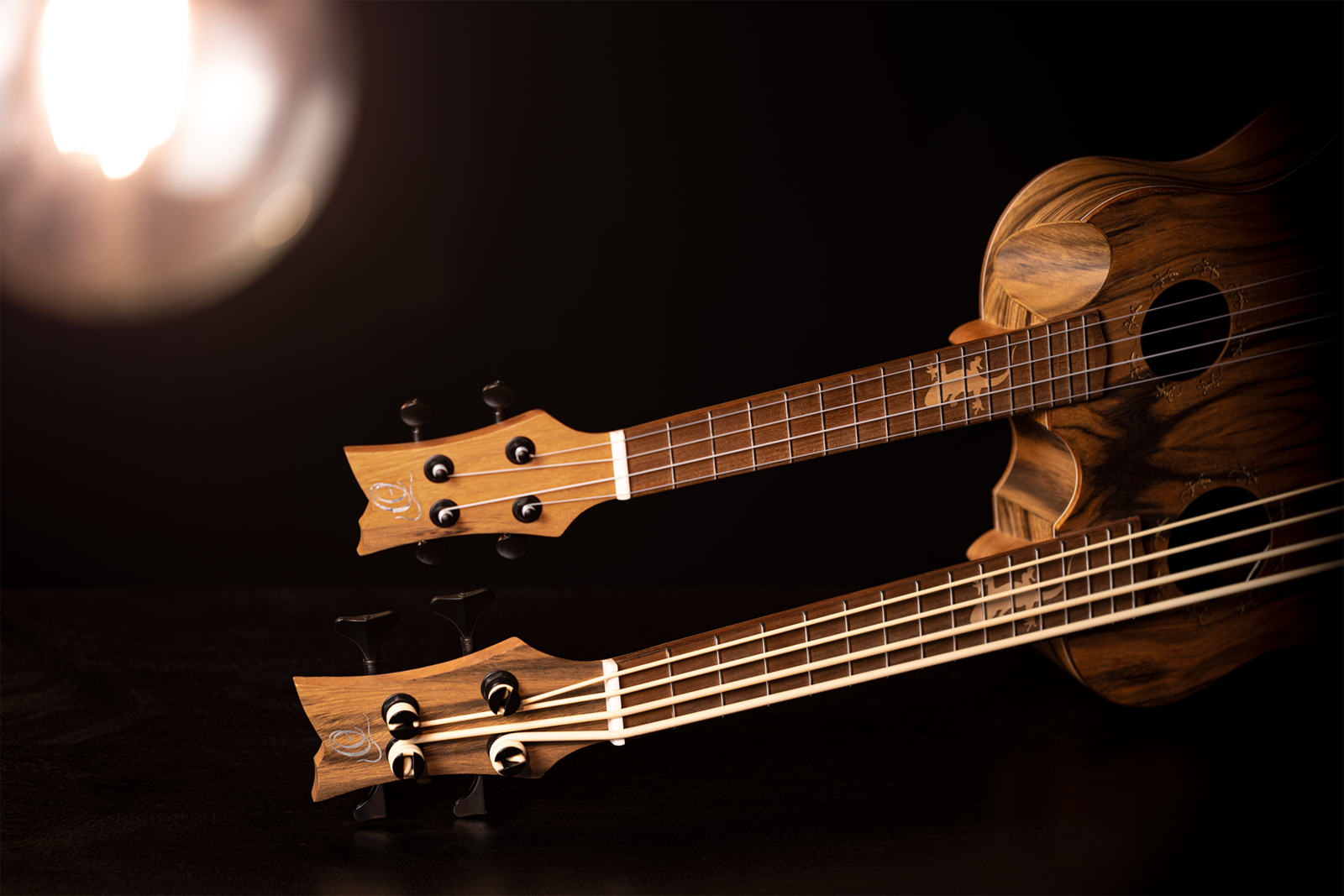 Playing the HYDRA-BSTE offers many musical possibilities for you - no matter if you are a singer-songwriter, uke or uke bass player, or a live looping musician.
FEATURES
The HYDRA-BSTE from the Custom Built Series features a tenor size body, built-in electronics, and two necks.
Dao top, open-pore satin finish
Dao back & side, open-pore satin finish
Mahogany necks, natural satin finish
Ukebass 4string & Tenor 4string
Walnut fretboard & bridge
Walnut/ABS body binding
Bone nut & saddle
Custom-built electronics with 3way toggle switch (Ukebass/both/Tenor)
4string Ukebass tuning machines black/ black & 4string Ukulele single tuning machines black/black
Deluxe gig bag included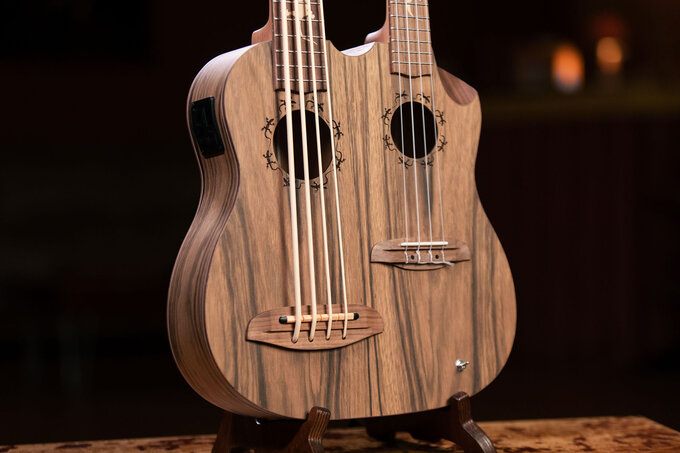 TENOR SIZE BODY MADE FROM DAO
Dao is an exotic tonewood with a warm, vibrant tone that sounds akin to mahogany. The body is slightly bigger than a baritone-size ukulele body, but still very comfortable to play.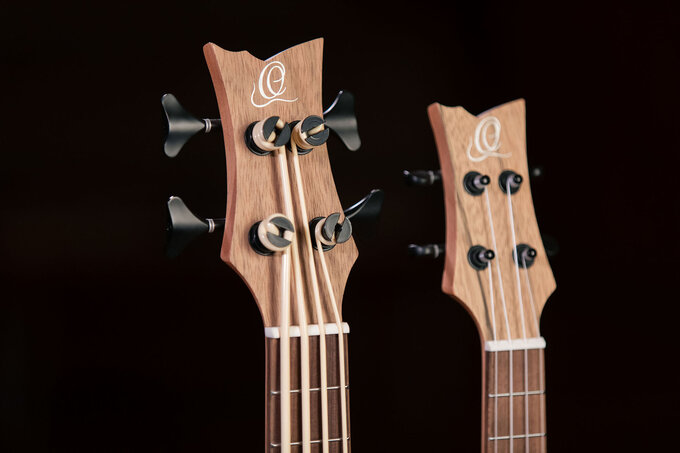 TWO NECKS FOR A MAXIMUM OF POSSIBILITIES
With two necks you can play percussive fingerstyle, live loops, or play and sing along. It is like having two instruments built into one uke.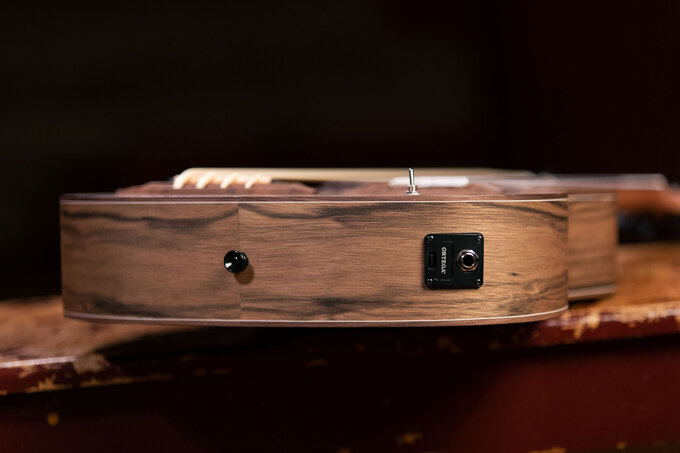 No matter if you want to record your session or play live with an amplifier, the HYDRA-BSTE offers a jack output for both. With the 3-way toggle switch, you can choose the uke bass, tenor uke, or both necks.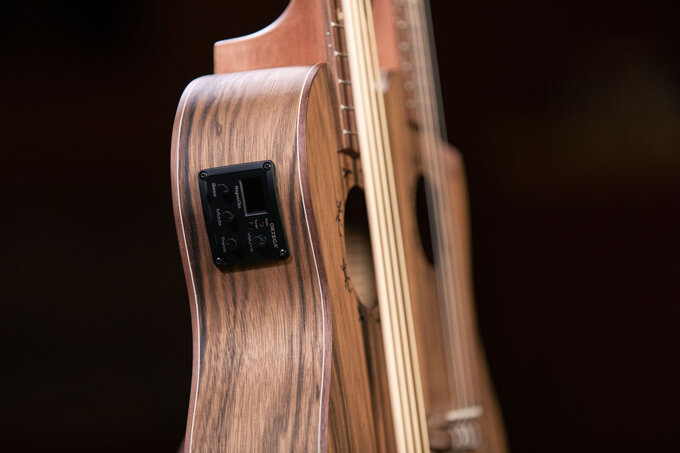 ALWAYS IN TUNE WITH THE BUILT-IN MAGUSUKE ELECTRONICS
Thanks to the built-in MagusUke electronics unit, you can dial in your preferred sound with the three-band EQ. When pressing the tuner button, the instrument is being muted and you can tune both necks with the chromatic tuner.
PRODUCT DEMO
In this product video, RJ Ronquillo demonstrates the different setups. The double-neck uke can be played both plugged in or unplugged.
HYDRA PERFORMANCE
Duncan Howlett has recorded a great live looping version of "Seven Nation Army". For his performance, he has used the HYDRA-BSTE double-neck ukulele, a QUANTUMloop digital stomp box and looper, and a QUANTUMexp. Watching the video, you will get an idea of what can be played on this special instrument.
FIND OUT MORE
About the instruments in the video.