Our popular Earth Series is offered in 11 beautiful finishes, with or without electronics. The ukes are great both for beginners and ukulele collectors.
COLOR DESIGNS
Here is an overview of the 11 available color designs. Almost all models are also available as an acoustic-electric version.
SPECS
Okoume top, back & sides, satin finish
Mahogany neck
White ABS binding
Walnut fretboard & bridge
Ortega MagusUke electronics w/ tuner (-CE models)
Die-cast tuning machines, chrome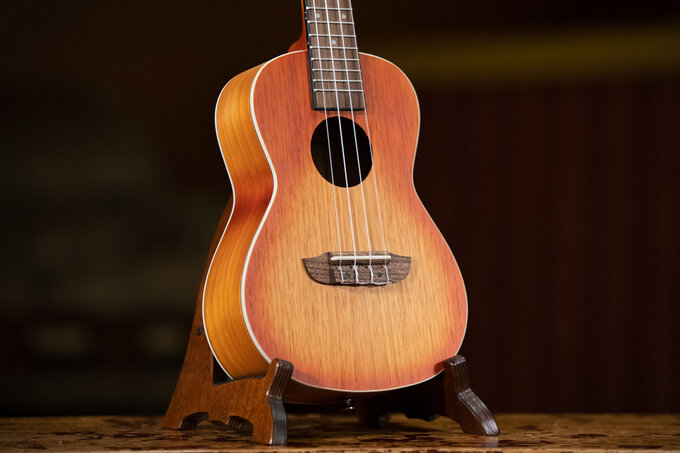 The body, neck, and headstock of the Earth Series ukuleles are made of Okoume wood. It produces a sound that is warm, deep, resonant, and clear. The fretboard and bridge are made of top-grade walnut, giving it a high-end aesthetic and tone. The striking color finish contrasts beautifully with the natural wood grain.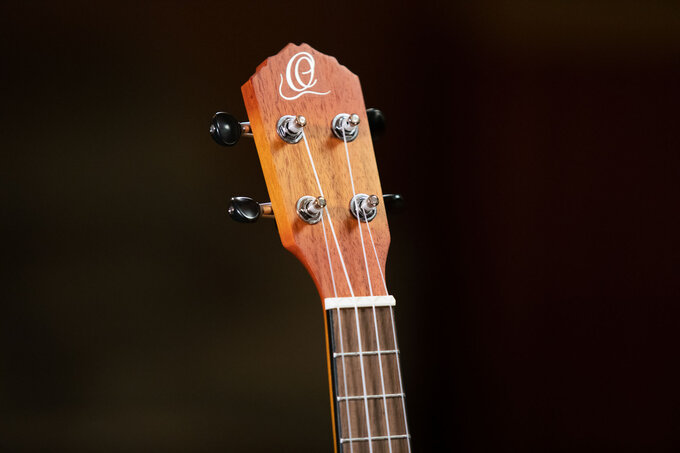 This headstock design has become a trademark for our guitars and many of our ukuleles. With the bright Ortega logo on top of the instrument, the uke is easy to identify. The ukulele is tuned in G C E A.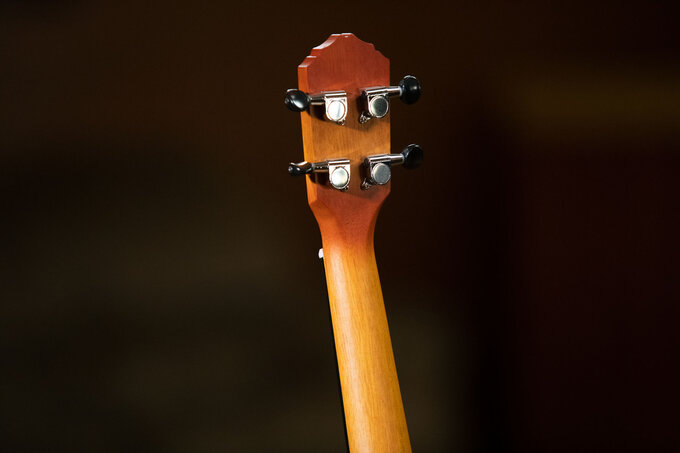 Chrome-plated die-cast tuning machines with synthetic black buttons offer the ukulele a clean, modern appearance while being simple to use. For extra durability, this construction keeps the gears sealed from the environment. These tuners enable quick string changes and exact tuning adjustments, as well as a comfortable feel when spinning the buttons.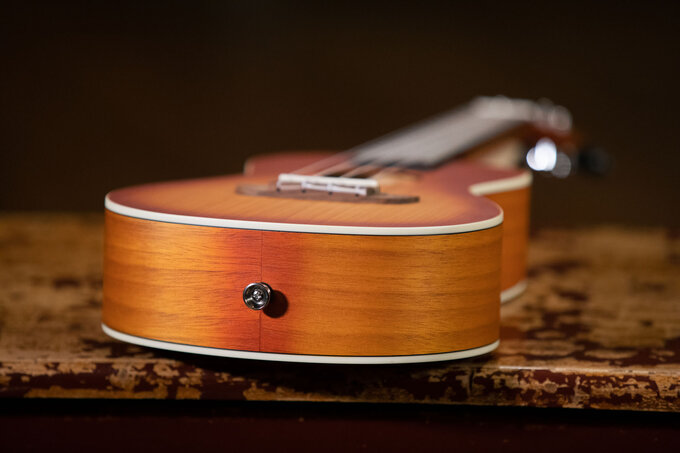 Thanks to the pre-installed strap pin, you can attach your favorite ukulele strap without mounting a pin first. In this picture, you can also see the white ABS binding, which protects the wood's edges from impact and moisture damage, especially where the end grain would be visible.
Built-in Electronics
All CE models (the abbreviation stands for cutaway & electronics) include a MagusUke preamp system and tuner.
You can boost your sound in any situation with the MagusUke preamp/pickup system, which includes a built-in tuner and quarter-inch output jack. The built-in chromatic tuner is created for convenience with pinpoint accuracy, and the volume and tone controls allow you to simply combine your sound. All twelve notes of the chromatic scale (C, C#, D, D#, etc.) are detected by this tuner. A quarter-inch output jack is located on the side bottom to transmit your signal to any amplifier or PA system.
UPGRADE YOUR ACOUSTIC UKE
You can also equip your acoustic ukulele with one of our MagusUke systems to upgrade it for the next gig.
Product DemoS
Listen to both Earth Series uke versions: acoustic and acoustic-electric.
RUCOAL-CE
Acoustic-electric ukulele
All Earth Series Ukuleles
Hide FilterShow Filter|
22 results.